Kyselin aiemmassa postauksessa (tai postauksettomuudessa) että mitä haluaisitte seuraavaksi täällä blogin puolella nähdä, ja aika yksimielisesti päädyttiin meikkikokoelma postaukseen! Pahoittelen jo heti alkuun postauksen kuvien laatua, päätin työpäivän jälkee alkaa vielä napsimaan kuvia. Pimeä makuuhuone ja väsynyt kuvaaja ei ehkä ole paras yhdistelmä... Postaus on myös aikamoinen kuva ja merkkipläjäys.
Mietin ennen postauksen tekoa miten toteuttaisin tämän meikkikokoelman esittelyn. Vaikka pelkkä meikkihyllyni kuvaaminen kuumottelikin helpoudellaan, päätin tehdä tämän nyt ihan perusteellisesti ja samallahan pääsinkin inventoimaan tämän kokoelman! Homma helpotti kyllä suuresti se, että project 10 panin alussa harvensin kokoelmaani pahvilaatikollisen verran, onneksi.
Meikkivoiteet ja peitevoiteet:
Rimmel Match Perfection meikkivoide (fair ivory), MAC mineralize moisture SPF 15 meikkivoide (NW13), MAC Pro Longwear peitevoide (NW15), Oriflame Veryme BB voide.
Primerit:
Essence all about matt! oil control make-up base, e.l.f. mineral infused face primer, wet'n wild fergie Take on the day luomiväriprimer, Urban Decay eyeshadow primer potion.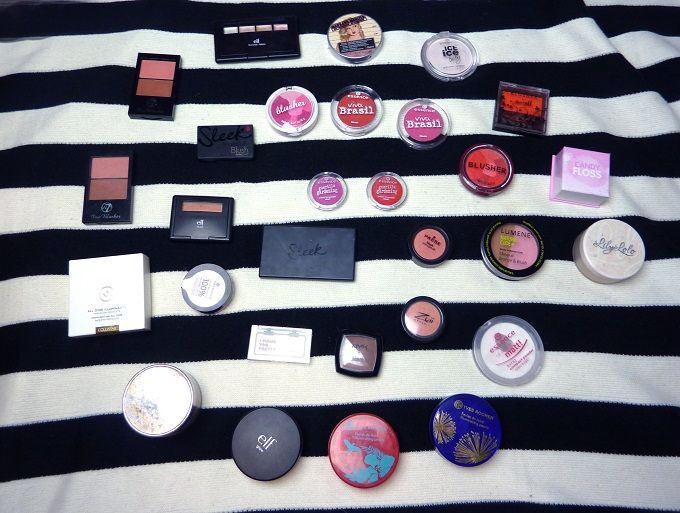 Puuterit, poskipunat ja highlighterit:
Sleek Face Form Contouring and blush paletti, essence guerilla gardening cream to powder poskipuna (mission flower), essence guerilla gardening cream to powder poskipuna (floral glam), Paese poskipuna arganöljyllä, Zuii poskipuna (peach), NYX poskipuna (taupe), the face shop (orange syrup), Yves Rocher loose powder foundation (400 - teint mat), e.l.f. poskipuna (candid coral), Sleek poskipuna (pomegranate), H&M blusher x 2 (punainen ja vaaleanpunainen), essence Viva Brazil poskipuna ( destination: Sao Paulo!), essence Viva Brazil poskipuna (I <3 Brazil), Lumene Natural Code mineral bronze & blush (pinky), essence all about matt! fixing compact puuteri, Yves Rocher Illuminating pearls (transparence), Yves Rocher Illuminating pearls (soleil), e.l.f. mineral glow (shimmer), Clinique gentle light puuteri (05 glow), Collistar all over illuminante highlighter, w7 duo blusher (04) x 2, e.l.f. shimmer paletti, the Balm Mary-Lou Manizer highlighter, essence ice ice baby shimmer puuteri (ice skating), Barry M blusher, Candy Floss bightening face puuteri.
Eyelinerit ja kajaalit:
Beauty UK glitter eyeliner (14), beauty UK glitter eyeliner (1), ?ei hajuakaan merkistä? (stardust), e.l.f. liquid eyeliner (black), Yves Rocher eyeliner (51.), Yves Rocher silmäkynä (opale dorée), Rimmel Scandal eyes kajaali (nude), essence dark romance silmäkynä (black shadow), catrice calligraph ultra slim eyeliner kynä, e.l.f. eye widerer (pearl white), couleurs 3 in 1 kynä, essence dark romance glitter silmäkynä (foggy love) x 2, Sensai eyeliner kynä (black), Lumene vedenkestävä rajausväri (grey crystal), NYX silmäkynä (black), L.A.colors jumbo silmäkynä (sea shells).
Ripsituotteet:
Urban Decay urban lash mascara for false lashes, Yves Rocher glitter mascara (argent), Maybelline the Colossal go! extreme volum' mascara, Make up factory mascara fixing coat, e.l.f lenghtening & volumizing masara (ei kuvassa, salilaukussa), IsaDora Flashing volume mascara (ei kuvassa, laukussa).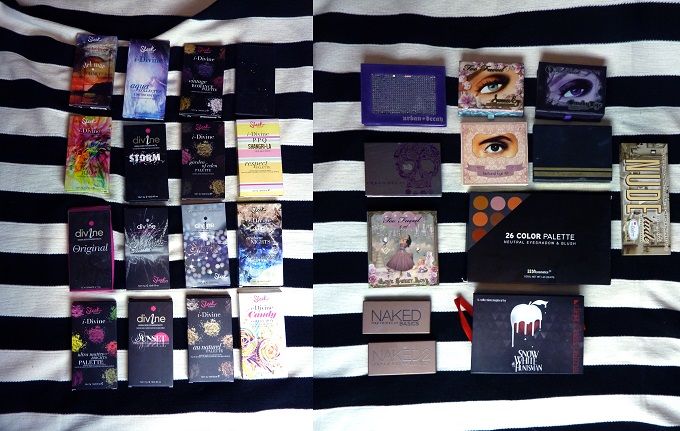 Luomiväripaletit:
Sleek Del Mar, Sleek RioRio, Sleek Original, Sleek Ultra Mattes bights V1, Sleek Aqua collection Lagoon, Sleek Storm, Sleek Bad Girl, Sleek Sunset, Sleek Vintage Romance, Sleek Garden of Eden, Sleek Sparkle, Sleek Au Naturel, Sleek Chaos, Sleek Shangri-La Respect, Sleek Arabian Nights, Sleek Candy, Too Faced Love Sweet Love, Too Faced Summer eye, Too Faced Smoky eye, Urban Decay Ammo, Urban Decay Deluxe Shadow Box, Urban Decay Naked basics, Urban Decay Naked 2 basics, Nelly beauty natural eye kit, The Body Shop (midnight), Bhcosmetics 26 color palette neutral eyeshadow & blush, Diego Dalla Palma Snow White & the Huntsman, the Balm NUDE'tude.
Yksittäiset luomivärit ja minipaletit:
Sleek eyedust (starry-eyed), Sleek eyedust (innocence), e.l.f glitter luomiväri (nature girl), Ben Nye pressed eyeshadow (shell), e.l.f. pressed mineral eyeshadow (bridal party), e.l.f brightening eye color (silver lining), Sugarpill loose eyeshadow (decora), Sugarpill pressed eyeshadow (afterparty), Artdeco Glam couture eyeshadow, e.l.f. eyeshadow duo, Jordana (pretty peach), wet'n wild luomiväri trio (spoiled brat), wet'n wild luomiväri trio (silent treatment), lavera illuminating luomiväri quattro (lavender couture), Victoria's secret hypergloss shimmer (golden lights), essence be loud! luomiväri (rock the block), Max Factor (feral brown).
Huulipunat ja -kiillot ja huultenrajauskynät:
Make up store huulikiilto (best), essence mini lip gloss set (london calling), Clinique chubby stick intense (mightiest marachino), essence huulipuna (nude love), essence huulipuna (dare to be nude), Calvin Klein huulipuna (eros), Lumene huulipuna (in the sun / kesän odotus), Loreal huulipuna (shiny cinnamon), W7 huulipuna (naughty nude), ?taas joku outo? (nostalgic), essence Bloom me up! huulipuna (rose it up!), NYX butter huulipuna (bit of honey), Aodie huulipuna ja -kiilto (03), essence XXXL longlasting huulikiilto mattaefektillä (velvet rose), Too Faced Lip injection, essence love letters jumbo sheer stick (dear peach!), H&M lipstick & lipgloss (nougat rose), essence love letters jumbo sheer stick (rosy in love), Lumene Natural Code huulikiito (soft papaya), MUA huulikiilto (halcyon), Yves Rocher huulikiilto (41), Yves Rocher huulikiilto (21), e.l.f. mineral moisturizing lip tint, NYX butter (marshmallow), e.l.f. luscious liquid huulipuna (baby lips) x 2, e.l.f. hypershine gloss (bare), e.l.f luscious liquid huulipuna (strawberry), essence XXXL longlasting huulikiilto mattaefektillä (silky red), MSCHIC huultenrajauskynä (orangetang), Constance Carrol huultenrajauskynä (paprika), Catrice huultenrajauskynä (Tom & Berry), Yves Rocher automaattinen huultenrajauskynä (bois de rose).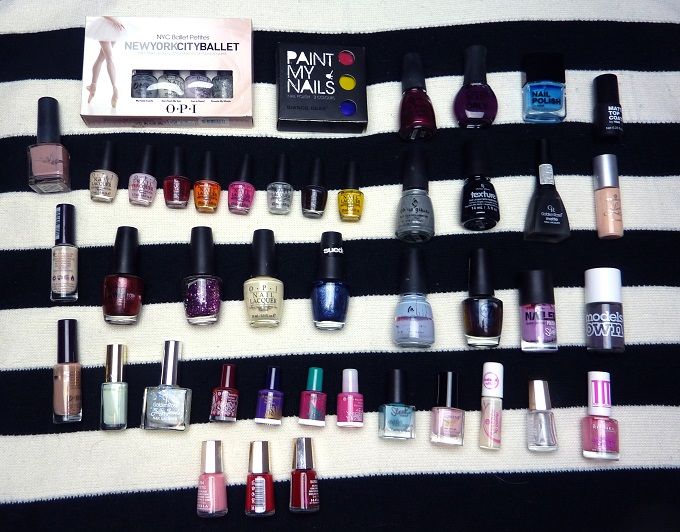 Kynsilakat:
O.P.I New York City Ballet (My Pointe Exactly, Don't Touch My Tutu!, Care to Danse?, Pirouette My Whistle), Bianco Gear Paint my Nails 3 colours, China Glaze (skate night), ORLY color blast (drama), H&M (nail him), H&M matte top coat, Misa (hight waist hue), O.P.I:n pikkulakkoja (8klp), China Glaze (platinum silver), China Glaze texture (bump in the night), Golden Rose matte kynsilakka, essence love letters (dear peach!), Yves Rocher shiny pastel nailpolish, O.P.I. (red - y to help), O.P.I. (divine swine), O.P.I (swedish nude), O.P.I (russian navy suede), O.P.I (Suede), China Glaze (agent lavender), w7 (metallic venus), Sleek (lilac), models own (mushroom), Yves Rocher (beige nacre), Loreal (pistachio drage), Golden Rose (jolly jewels), Yves Rocher (Rose pailleté), Yves Rocher (Améthyste), Yves Rocher (Hibiscus Rose), Yves Rocher (Rose joyeux), Sleek (côte d´Azur), Lumene Natural Code (feel good), Essence tip painter (natural white), Mavala top coat, Rimmer Sweetie Crush (candyfloss cutie), Mavala (poetic), Mavala (macao), Mavala (bordeaux).
HUHHUH, olipas siinä homma. Pahoittelen kaikkia kirjoitusvirheitä mitä tästä listamonsteripostauksesta varmasti löytyy, mutta annan nyt kyllä itselleni miniaplodit että jaksoin tämän väsätä.